Mercury Retrograde in Aquarius and Capricorn  
January 14 to February 3, 2022 
from 10º Aquarius to 24º Capricorn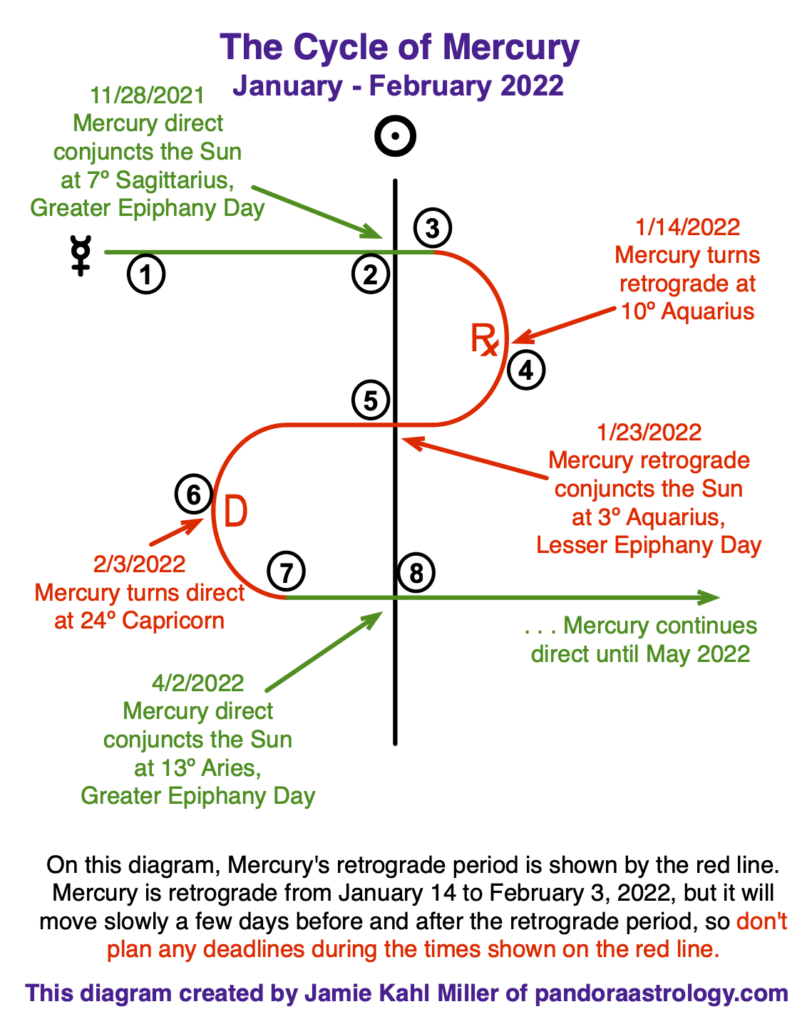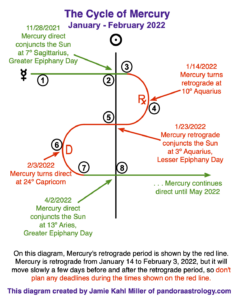 What does it mean? 
When Mercury goes retrograde in Aquarius, we can run into issues in our social lives. Aquarius is a social sign, and Air is a social element, therefore this retrograde cycle will highlight miscommunications within our friendships, communities and groups we belong to. It is a period of introspection, retrospection, and reorganization in community and social participation, as well a time when there is a tendency towards communication and technical breakdown, particularly as it relates to all forms of networking, from your friendships to your business relationships to your social media accounts. 
From the Cerebral to the Concrete 
This year's retrogrades emphasize the need for grounded experience over conceptual gymnastics. The thematic shift from Air backwards into Earth suggests we run into problems through our tendency to overthink. The antidote for this is to look inward and ground ourselves in concrete, measurable experience. On what we call "Lesser Epiphany Day," when Mercury retrograde conjoins the Sun, we may be particularly open to such insights. 
Community Membership to Personal Security   
Capricorn, the ruler of the midheaven, is the sign of worldly security. Concerned with mastery and being respected by society at large, it often focuses its energy through the vehicle of a career. The third and last of the Earth signs to appear in the zodiacal cycle, Capricorn desires to build something lasting, and to provide for itself. Under this sign's hardworking influence, we may go from feeling a little lost in a community-oriented, relational understanding of ourselves to finding a sense of reputation and identity in relation to others that somehow isn't derived relatively but is rooted instead in our hard-won expertise and excellence. We can arrive at a solid sense of security via an introspectively-sourced practical integrity.