Essential Archetypes Intermediate Astrology Class
Astrological Seeker,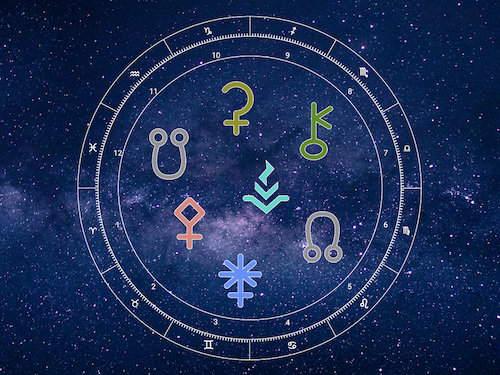 Do you keep hearing about Chiron the Wounded Healer and wonder how to interpret this complex archetype in your friends' charts? Curious about the asteroid goddesses? How is warrior woman and wise woman Pallas Athene placed in your chart? What does Ceres tell you about wealth-building? What clues does Juno hold about your marriage type? How can you utilize Vesta's focusing abilities (and heal sexual shame)? And what do the mysterious and karmic Nodes of the Moon have to say about your purpose and evolutionary path in this lifetime? This is the class where you discover these magnificent and meaningful archetypes…
Essential Archetypes:
Chiron the Wounded Healer
the 4 Major Asteroids
and the Nodes of the Moon
In this class series you'll dive deep into these archetypes with an astrologer who's been using them in every chart for 30 years. The basic 10 planets astrologers usually use are mostly masculine archetypes, with the exception of Venus and the Moon–as if to say to women everywhere, "these are your choices: be the Siren or the Mother." But realistically, these are not the only goddesses women can awaken inside themselves. Women find understanding the asteroids to be empowering, but men also benefit from the much-needed feminine balance they bring. This class helps all humans become whole. When you understand these archetypes, your mind will flood with interpretations in every chart you look at. These classes are taught as if you'll be seeing clients someday as a full, professional astrologer, even though you may just be using this information to look at your own chart or family and friends.
The Details
This 6-session series runs on Mondays, starting January 2, 2023 at 5pm PT as a teleclass by Zoom meeting service. That means you will participate via videoconference where you can share and listen, and you'll watch techniques in action in your computer's browser window. (you'll need a computer, not tablet or phone) Sessions are 1 1/2 to 2 hours long. Meetings happen every week, with the exception of a scheduled break.
Packed With Information
You receive the prerecorded lecture at least a week before the class meeting. Because you study these materials in your own time, class sessions are entirely devoted to application of the technique you're learning and your questions about it. In class, you see examples in the charts of class members. Class sessions are also recorded, so you can study them further at your leisure. Here is a sample video, showing the kind of material we'll discuss; in it, Julia and Jamie talk about how to use Juno and Vesta, along with Venus, to find true love in a chart. Example charts are J Lo, LeBron James, Billie Eilish and Beyonce.
Practical, hands-on learning:
All classes are filled with the kind of interpretive insights you can only get from a teacher who has been a practicing astrologer for a long time and enjoys people. Each class is a 90 to 120-minute practicum in astrology. Because you listen to an in-depth recording of the class material before you attend, ALL of the class time is spent on your questions and topical examples. Every class session is fresh, unique and new. I, your teacher, bring all my curiosity and enthusiasm to each session.
This is an online class, in webinar format (video, audio and screenshare). You will need a laptop computer of any kind, with a reasonably updated operating system and a fast internet connection (if you can stream video on your computer on youtube or netflix, your system is fast enough). You will also need two apps: Dropbox and Zoom, both of which are free for you. You'll receive instructions for getting them in your registration email. And thirdly, a video camera in your computer is not a requirement, but it adds to the feeling of connection among class members if we can see your face. Please do your best to be visible.
Class size is limited to 10, so sign up now!

Payment Options
Cost: $320 for the 2 month series.
Full-pay option: $299, payable by credit card or paypal when you register.
Payment plan option: $320, payable in 2 easy monthly payments of $160 each, by credit card.
For serious astrology students:
If you love astrology and want to dive deep, I've got discounts available for you. You can take classes in packages or the whole curriculum and you can use payment plans or get an even deeper discount when you pay in full in advance. You'll see all these options when you get to the page where you can purchase Prediction and Asteroids.
Syllabus and Schedule:
Webinar class meets on Monday, January 2, 2023
5:00 PM Pacific/8:00 PM Eastern Time
Is he broken or brilliant? Answer: both. We all have inside us that primally wounded place where we know ourselves to be special. Understanding Chiron gets you rapport with your friends faster than anything. Learn how to take your friends on a healing journey.
2. Ceres, the Earth Mother (Food, Body, Money)
Webinar class meets on Monday, January 9, 2023
5:00 PM Pacific/8:00 PM Eastern Time
Mother Nature, Mother Earth—whatever you call her, Ceres represents our essential relationship with the physical world. Her themes line up beautifully with those of Taurus: food, money, physical security. Ceres explains eating disorders, self-worth and "havingness."
On Monday January 16th: class on a break or possible make-up day
(please reserve in your calendar)
3. Pallas-Athene, Warrior Woman and Goddess of Wisdom
Webinar class meets on Monday, January 23, 2023
5:00 PM Pacific/8:00 PM Eastern Time
Is she a ball-buster or is she Daddy's Little Girl? This complex female warrior archetype defies comprehension yet an understanding of her themes is essential to understanding the dilemma of the modern woman: "how to balance my strength with my softness?"
4. Juno, Matriarch, Matchmaker and Goddess of Marriage
Webinar class meets on Monday, January 30, 2023
5:00 PM Pacific/8:00 PM Eastern Time
How come the Queen of Heaven can't get no respect? She gets it here in this class devoted to her themes of marriage, matchmaking and feminine (non-hierarchical) leadership styles. Compare her with Venus and Vesta for mind-blowing relationship insights.
5. Vesta, the Temple Priestess and Sexual Healer
Webinar class meets on Monday, February 6, 2023
5:00 PM Pacific/8:00 PM Eastern Time
The misunderstood and much-maligned Sacred Prostitute and sexual healer finally has her day in this class, where you'll learn to sympathetically explain her meaning to anyone, even those who are terrified of infidelity. Learn why "focus" is her key theme.
6. The Moon's Nodes and the Dragon of Destiny
Webinar class meets on Monday, February 13, 2023
5:00 PM Pacific/8:00 PM Eastern Time
The Moon's Nodes show the arc of your eternal soul's evolution, which we see only a snapshot of in this lifetime. Understand your karmic past, so you can release it, and know your soul's purpose, so you can soar towards it.
As I said, I can only accommodate 10 students in this teleclass, which you can attend from the comfort of your own home. My classes are small on purpose, because I want to give you lots of personal attention and answer all of your questions.
Please note: This class is only open to students who already know something about the basic planets, signs and houses of astrology. If you've been studying astrology and you're ready to take it to a deeper level of understanding, this class is for you!
I look forward to meeting you and exploring the uncanny worlds of time and archetype with you.
Warmly,

". . . More and more astrologers . . . are experiencing the depth of insights that the asteroids lend to the new and often confusing social and interpersonal issues of our times. Many astrologers have written and spoken to me of how the asteroids explain dimensions of themselves and their relationships that could not be explained in the ten-planet chart."
(quoted from Demetra George's definitive work, Asteroid Goddesses, the Mythology, Psychology and Astrology of the Re-Emerging Feminine)
From a student:
"When I met Jamie Kahl I instantly knew she would become my teacher. Her synthesizing intelligence, her playful tone, and her deep-knowing eyes intrigued me. I studied with her for 12 cycles of the moon — delving deeply into the meaning of not only the 8 major planets, but house systems, transits, the ebb and flow of the wheel of life and spirit, and Chiron and the asteroids. Learning about Chiron and his story was deeply impactful as I emerged out of my soul journey — healing my own wounds, and finding ways to use these lessons to help others became a driving force in my life. The asteroid goddesses emboldened me and expanded my sense of self as woman, and as Woman.
"Learning how astrology works, and then doing readings for others later connected me to the greater Universe and my full sense of self. With the foundation of Jamie's eloquent teachings, I grasped the patterns succinctly and learned to share the lessons and energy with others. While I no longer do readings for others, except for the occasional jaunt, I use astrology, and especially the lessons from the stories of the goddesses, in everything I do. Jamie has been an inspiration to me, and I will always value her as my Teacher."
–Ericka J.