Cosmic Companions Beginner's Astrology Class
Get To Know The 12 Archetypes Of Astrology And Master Your Life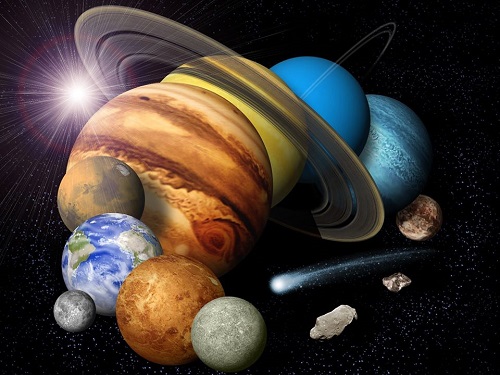 There is so much more to you than just your Sun sign. Your astrology chart describes the drama of your life—it's bursting with colorful characters wearing odd costumes and occupying lush scenery. Psychologists call these characters "archetypes" and they are a universal part of human experience. The interactions between these characters are behind every motivation, desire and ambition you have.
Got the Lover slugging it out with the Inner Judge? Got the Thinker in a tug-of-war with the Visionary? Understanding these characters' interactions is the key to living well through astrology. Wouldn't you like to know a little more about them? Of course! Because you are a spiritual seeker and you want to know your purpose. You also want to know how to help other people get in touch with their purpose. You want to be able to decode that curious thing we call the human heart. And I've got just the thing to help you.
I've designed a series of classes to teach astrology to beginners, making it easy to learn, in a warm atmosphere of other seekers like yourself. You can take the class in your own home, in front of your own computer, face-to-face with me and your fellow students via online meeting software. In this series of classes, you'll begin reading charts right away, starting with your own. Your friends will quickly be amazed at your insight into them, your compassion and your vulnerability. Watch all your relationships change as you come to understand the motivations, drives and needs of the people around you—and begin responding to them in different ways. See your loved ones blossom and your whole life open up before you.
This beginner's class focuses on the planets, signs and houses, studying them in depth. You'll learn what each means in your own chart and how to interpret it in other people's charts too.  Month by month, you'll meet them all: the Lover, the Hero, the Thinker, the Universal Mother, the Authority Figure and a host of other characters. When you understand these characters, you'll understand the workings of human personality. By the time the class ends, you'll have scoured every inch of your chart for stunning insights into yourself and the human condition.
"Jamie's comprehensive knowledge, ready wit and willingness to highlight the finest qualities in each chart and identify the appropriate cures for the challenges make her an exceptionally gifted and supportive teacher." –Andrew D.
Each class includes:
A lecture recording packed with mythology, stories and themes related to the topic, delivered to you online for easy download.
A pdf handout of the lecture for your reference and your notes.
Unlimited copies of your own chart and other people's charts you request, so you can learn about the people in your life as you go.
Class time that is entirely devoted to examples and discussion of the charts of students in the class, so you don't have to waste time attending a lecture, because you can do that on your own, at your own pace, offline.
All your astrological questions answered, on-topic first and then off-topic as time allows.
Attention on your chart, to develop your understanding of what things mean in your life, and how to live that part of your life in a powerful and joyful way.
Small-group classes, where everyone gets heard and everyone learns from each other's experience.
A warm, compassionate and lively atmosphere in which you feel seen, understood and respected for your challenges and your choices in this life—and inspired to live your truest potential.
You'll enjoy the learning process as you absorb a broad variety of information on all the basic astrological archetypes in a fun and friendly setting. Learn with your chart and the charts of others right in front of you. Practice using the archetypes and walk away from each class with real, practical tools you can apply to anyone's chart anytime for insight and understanding. If you've read about your sign and perhaps a bit about others, but have never really filled in the gaps by studying them all, this Cosmic Companions Class is a great place to begin. You'll gain a foundation for future astrological study and every person in your life will suddenly make sense to you.
Warning: In these classes we have an astonishing tendency to have fun and get silly! (Looking for intermediate and advanced astrology classes instead? Look here.)
"As an intern with Pandora Astrology and a beginning astrology student, it's incredibly special to have Jamie as a teacher and mentor. She is a powerhouse of information yet completely accessible, compassionate and understanding to the 'new kid on the block.' Because it can be so hard to gain this knowledge from professional and credible sources (other than books, of course), to have a chance to study with Jamie in person is an opportunity to not be missed!" –E. Bridgeman
2022 class series begins Monday, February 28, 2022:
This series is scheduled to happen at 5 PM Pacific Time / 6 PM Mountain Time / 7 PM Central Time / 8 PM Eastern Time. Meetings happen almost every week (see schedule below). If for any reason I need to change the schedule, all active students will be notified and the change will be posted here.
Practical, hands-on learning:
All classes are filled with the kind of interpretive insights you can only get from a teacher who has been practicing for a long time and enjoys people. Each class is a 90-minute practicum in astrology: because you listen to an in-depth recording of the class material before you attend, ALL of the class time is spent on your questions and topical examples.
This is an online class, in webinar format (video, audio and screenshare). You will need a laptop computer of any kind, with a reasonably updated operating system and a fast internet connection (if you can stream video on your computer on youtube or netflix, your system is fast enough). You will also need two apps: Dropbox and Zoom, both of which are free for you. You'll receive instructions for getting them in your registration email. And thirdly, a video camera in your computer is not a requirement, but it adds to the feeling of connection among class members if we can see your face.
"When Jamie began my reading, she began by saying that strong scripts don't necessarily mean that a person's life is marked by tragedy. At that moment, I honestly wondered if that was a sympathetic nudge for the horror that followed in my chart reading, or if she truly meant that. But after getting to a few major contradictions in my personality (which took all of about 24 seconds), it became clear that she genuinely sees everyone as potential, not predestined. I will absolutely recommend Jamie as a life coach, because that is what she is. Everyone who meets her is definitely a blessed person with amazing karma because she's a priceless teacher and friend." –Isis R.
Payment Options
Cost: $399 for the 2 month series.
Full-pay option: $399, payable by credit card or paypal when you register.
Payment plan option: $429, payable in 3 easy monthly payments of $143 each, by credit card.
For serious astrology students:
If you love astrology and want to dive deep, I've got discounts available for you. You can take classes in packages or the whole curriculum and you can use payment plans or get an even deeper discount when you pay in full in advance. You'll see all these options when you get to the page where you can purchase Cosmic Companions.
Session #0 – Your Secret Decoder Ring: Understanding Astrology As A Secret Language
In this class, the mysterious symbols of astrology will begin to make sense to you. Tap the mysteries of the universe by learning the secret code your chart is written in.
Webinar class meets Monday, February 28, 2022
All classes happen at 5 PM Pacific Time / 6 PM Mountain Time / 7 PM Central Time / 8 PM Eastern Time
Session #00 – The Magical Sky
Here you see how the system of astrology is an intelligent, integrated whole filled with interlocking pieces of wisdom. Class sessions 0 and 00 form the foundation as we proceed into class 1 ready to focus on each planet/sign/house combination in detail.
Webinar class meets Monday, March 7, 2022
All classes happen at 5 PM Pacific Time / 6 PM Mountain Time / 7 PM Central Time / 8 PM Eastern Time

Aries–The Warrior, the Hero and the Athlete. This sign is about how you assert yourself and strike in a perfect, pure moment. We interpret Aries, Mars and the 1st House.
Libra–The Romantic, the Partner and the Devil's Advocate. This sign is about how you relate, and who you are attracted to, your magnetic inner "Golden Goddess Aphrodite." We interpret Libra, Venus and the 7th House.
Webinar class meets Monday, March 14, 2022
All classes happen at 5 PM Pacific Time / 6 PM Mountain Time / 7 PM Central Time / 8 PM Eastern Time
Session #2 – TAURUS and SCORPIO
Taurus–The Earth Mama, the Banker and the Cook. This sign is about how you tap into a sense of belonging in the physical world, affecting how you handle food and money. We interpret Taurus, Venus, Ceres and the 2nd House.
Scorpio–The Detective, the Psychologist and the Phoenix. This sign is about what's lurking in your psychic basement and how to reintegrate it and discover your essential values. We interpret Scorpio, Pluto and the 8th House.
Webinar class meets Monday, March 21, 2022
All classes happen at 5 PM Pacific Time / 6 PM Mountain Time / 7 PM Central Time / 8 PM Eastern Time
Session #3 – GEMINI and SAGITTARIUS
Gemini–The Thinker, the Twins and the Communicator. This signs is about how you think, learn and communicate, best uses of your intelligence. We interpret Gemini, Mercury and the 3rd House.
Sagittarius–Your luck and charisma, your access to pure joy and the best ways to follow your bliss. We interpret Sagittarius, Jupiter and the 9th House.
Webinar class meets Monday, March 28, 2022
All classes happen at 5 PM Pacific Time / 6 PM Mountain Time / 7 PM Central Time / 8 PM Eastern Time
Monday, April 4, 2022: class on a break or possible make-up day
(please reserve in your calendar)
Session #4 – CANCER and CAPRICORN
Cancer–The Universal Mother, the Intuitive and the Homebody. This sign is about how you nurture yourself and others, bond and create a safe nest. We interpret Cancer, the Moon and the 4th House.
Capricorn–The Father, the CEO and the Authority Figure. This sign is about your deepest fear and your crowning achievement. We interpret Capricorn, Saturn and the 10th House.
Webinar class meets Monday, April 11, 2022
All classes happen at 5 PM Pacific Time / 6 PM Mountain Time / 7 PM Central Time / 8 PM Eastern Time
Session #5 – LEO and AQUARIUS
Leo–The Performer, the Protagonist and the King/Queen. This sign is about how to tap into your creativity, self-expression, confidence and leadership. We interpret Leo, the Sun and the 5th House.
Aquarius–The Inventor, the Idealist and the Revolutionary. This sign is about how to unleash your Inner Genius and find your tribe. We interpret Aquarius, Uranus and the 11th House.
Webinar class meets Monday, April 18, 2022
All classes happen at 5 PM Pacific Time / 6 PM Mountain Time / 7 PM Central Time / 8 PM Eastern Time
Session #6 – VIRGO and PISCES
Virgo–The Sculptor, the Organizer and the Perfectionist. This sign is about the most effective ways for you to handle details and be of service. Virgo, Mercury and the 6th House.
Pisces–The Visionary, the Artist and the Chameleon. This sign is about your dream life and how to access your spiritual guidance. We interpret Pisces, Neptune and the 12th House.
Webinar class meets Monday, April 25, 2022
All classes happen at 5 PM Pacific Time / 6 PM Mountain Time / 7 PM Central Time / 8 PM Eastern Time
I'll be accepting only 10 students into this class. If you want to join, you might want to register right away to secure your spot (first come, first served). As I mentioned, these classes are small on purpose, because I want you to have access to lots of personal attention and get all of your questions answered. If you've been curious about astrology or studying it on your own, now is the time to jump in and learn from a real astrologer in a real private practice.
I look forward to meeting you and exploring this wondrous universe together,
Warmly,


PS. If you've been reading your online horoscopes for years or you've cracked "Linda Goodman's Sun Signs" or read the "Cosmo Girl's Guide To Astrology" and your curiosity is whetted, you've just found the very best place to start learning about astrology for real.