Chart Study Group Advanced Astrology Class – This will be offered in the fall of 2022
Prerequisites: This is an advanced class–you must have a basic knowledge of the planets, signs, houses and aspects and an ability to interpret pieces of a chart. To really enjoy and benefit from this class, you should be working on ways to synthesize what you know into wholistic interpretations.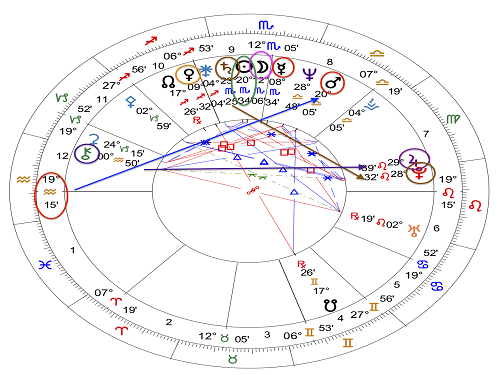 This series teaches a combination of analytical/detailed and big-picture techniques, then brings them all together into practical application in a round robin chart study group. This class is held in an emotionally warm, small-group atmosphere and as your teacher, I'll be guiding you to give group readings to your fellow students in turns.
"Jamie's comprehensive knowledge, ready wit and willingness to highlight the finest qualities in each chart and identify the appropriate cures for the challenges make her an exceptionally gifted and supportive teacher."     –Andrew D.
How to attend:
You attend via online teleclass and get all the information, materials and attention in a screensharing, videoconferencing webinar format.
The 2022 spring class series begins on Sunday, May 1, 2022:
This series is scheduled to happen every other Sunday at 11 AM Pacific Time / 2 PM Eastern Time / 8 PM Central European Time. Meetings happen every other week (see schedule below). If for any reason I need to change the schedule, all active students will be notified and the change will be posted here.
Practical, hands-on learning:
This is the most homework-heavy of all the classes I teach. You must prepare to give interpretations during class sessions. I'll give you everything you need to do that. Please plan on attending all class sessions and doing the homework. 
This is an online class, in webinar format (video, audio and screenshare). You will need a laptop computer of any kind, with a reasonably updated operating system and a fast internet connection (if you can stream video on your computer on youtube or netflix, your system is fast enough). You will also need two apps: Dropbox and Zoom, both of which are free for you. You'll receive instructions for getting them in your registration email. And thirdly, you'll need a video camera in your computer so we can see each other face-to- face.
This is a FRIENDLY learning environment: 
If you are used to learning environments with judgmental teachers who crack the whip over your head, know this class is not like that. You will fling ideas at the wall to see if they stick. You will fail fast and often. You will experiment and mess up in a safe environment. Your classmates will too, because nobody and no interpretation is perfect–we are all works in progress. I promise you will not break your classmates. Bring your compassionate, curious heart and all will be well.  
"As an intern with Pandora Astrology and a beginning astrology student, it's incredibly special to have Jamie as a teacher and mentor. She is a powerhouse of information yet completely accessible, compassionate and understanding to the 'new kid on the block.' Because it can be so hard to gain this knowledge from professional and credible sources (other than books, of course), to have a chance to study with Jamie in person is an opportunity to not be missed!"     –E. Bridgeman