Chart Analysis Techniques Intermediate Astrology Class
If you would like to sign up for a different class, click HERE
Understanding people through astrological chart analysis (intermediate course)
Dear Seeker,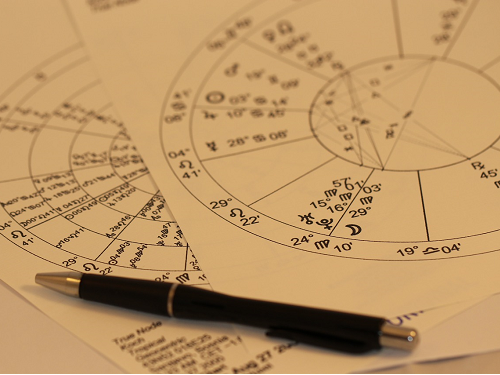 Ever felt baffled, irritated or even alienated by someone in your life? Ever given up in despair of understanding and being understood? Would you like to better understand and relate to your spouse, partner, child, friends, family, boss and coworkers? There's an easy and powerful way to make all your relationships an adventure, not a struggle.
If astrology fascinates you and you've learned some things about the signs, planets and houses, then you're in the perfect place.
In this class, you'll learn how to go way past simply knowing someone's "sign" and unlock the secrets of their soul using their actual astrology chart. You'll come to understand who they really are and how to relate with them.
You'll be able to look at anyone's chart and discover:
what motivates and drives him
talents he may not know he has
how he loves–and who
the challenges he came here to face–and why it's important that he do so
which parts of himself he tends to identify with and what are his "missing pieces" that he seeks in other people
how his personality meshes with yours
the deeper meaning and purpose behind his life
Chart Analysis Techniques: An Intermediate Astrology Class
This series of 10 classes gives you down-to-earth ways to interpret pieces of the chart so that you get it, your readee gets it, your readee is helped and your readee comes back for more.  Being able to understand charts and the people who occupy them improves all your relationships, whether you aim to practice astrology professionally or just as a hobby.
If you have already taken a basic astrology class, this class will quickly get you from zero to 60. You'll gain tips, techniques and tools for breaking a chart down into its details and also fitting them together in a big picture. This is the essence of chart synthesis. After taking this class, you'll look like a magician and all your relationships will go more smoothly.
Each class includes at least one lecture recording and PDFs, which you get to keep.
Because you absorb the lecture before class, you have time to review it as much as you like and class time is for answering your questions and for applying the techniques to your chart and your classmates' charts, so you can see these techniques in action. Each class has time for questions and answers at the end. Be ready to take notes and to ask questions about your own chart.
What you get:
lecture recordings jam-packed with information on the techniques we'll be working with
pdf handouts to accompany recording, for your notes
class time where Jamie demonstrates the technique and you get to practice
attention from Jamie and the group on the technique applied to your own chart
the opportunity to meet and get to know other students who are in the same place with astrology that you are
"I began my studies of astrology with Jamie in 1999. I found her approach to be deeply insightful and beneficial. I felt empowered to embody my best qualities more fully and meet my life challenges courageously. Jamie's comprehensive knowledge, ready wit and willingness to highlight the finest qualities in each chart and identify the appropriate cures for the challenges make her an exceptionally gifted and supportive teacher. If you desire to practice astrology with an eye toward supporting your clients in deeper self understanding and personal growth, look no further than Pandora Astrology." -A. Davis, preschool teacher
The class series begins on Monday, May 8, 2023:
This series is scheduled to happen every Monday at 5:00 PM Pacific Time, 6:00 PM Mountain Time, 7:00 PM Central Time and 8:00 PM Eastern Time. Meetings happen almost every week (see schedule below). If for any reason I need to change the schedule, all active students will be notified and the change will be posted here.
Practical, hands-on learning:
All classes are filled with the kind of interpretive insights you can only get from a teacher who has been practicing for a long time and enjoys people. Each class is a 90-minute practicum in astrology: because you listen to an in-depth recording of the class material before you attend, ALL of the class time is spent on your questions and topical examples.
This is an online class, in webinar format (video, audio and screenshare). You will need a laptop computer of any kind, with a reasonably updated operating system and a fast internet connection (if you can stream video on your computer on youtube or netflix, your system is fast enough). You will also need two apps: Dropbox and Zoom, both of which are free for you. You'll receive instructions for getting them in your registration email. And thirdly, a video camera in your computer is not a requirement, but it adds to the feeling of connection among class members if we can see your face.
SCHEDULE OF CLASS TOPICS
1. THE FOUR ELEMENTS, THE THREE QUALITIES AND THE CHART'S SIGNATURE SIGN
This class includes exercises that give a physically embodied sense of what the 4 elements mean.  If you're confused about why Libra is Cardinal or why Scorpio is Fixed, this class is for you.  The Elements and Qualities lead to discovering the chart's Signature Sign.  It's not your Sun sign, or your Moon or Rising–it's the one sign that arises from the strongest element and the strongest quality in your chart.  It shows your soul's overall agenda in this lifetime.  This will move your readee deeply!
Webinar class meets on Monday, May 8, 2023
5 PM Pacific Time / 6 PM Mountain Time / 7 PM Central Time / 8 PM Eastern Time
2. KEYWORDS & FORMULAS:  ASTROLOGICAL INTERPRETATION MADE EASY
Using the astrological 'alphabet,' we'll string together archetypal sentences that expand and illuminate your interpretations.  Learn how to brainstorm meanings and grow your own 'box of tricks' to help you translate self-understanding into astrological language.
Webinar class meets on Monday, May 15, 2023
5 PM Pacific Time / 6 PM Mountain Time / 7 PM Central Time / 8 PM Eastern Time
3. RULERSHIPS, DISPOSITORS AND PLANET-CHASING
Do you wonder why Jupiter is exalted in Cancer and why Saturn ruled Aquarius before Uranus showed up? This class clarifies rulerships and dispositorships, the basis for techniques like the Thumbprint, the Public Image planet and the Face of the Beloved.
Webinar class meets on Monday, May 22, 2023
5 PM Pacific Time / 6 PM Mountain Time / 7 PM Central Time / 8 PM Eastern Time
Monday, May 29, 2023 we will be on a break.
4. YOUR CHART'S FOUR FACES:  THE ASCENDANT, DESCENDANT, MIDHEAVEN & NADIR
This class includes how to discover your Thumbprint (the stamp of your personality), the Face of the Mythical Beloved and your Public Image planet.  You can apply these interpretation tips to anybody's chart and get powerful, immediate results!
Webinar class meets on Monday, June 5, 2023
5 PM Pacific Time / 6 PM Mountain Time / 7 PM Central Time / 8 PM Eastern Time
Here's where you come to understand the 'engine at the center of the works of your life.'  This class explains dispositorship and in particular the final dispositor.  Find out how giving your planets the appropriate 'food' is the key to success and happiness.
Webinar class meets on Monday, June 12, 2023
5 PM Pacific Time / 6 PM Mountain Time / 7 PM Central Time / 8 PM Eastern Time
Monday, June 19, 2023 we will be on a break.
6. ASPECTS, THE SCRIPTS YOUR INNER CHARACTERS PLAY OUT
If your chart is a stage play, with planetary characters wearing sign costumes and occupying house settings, then the aspects are the scripts of that play.  Here's you'll find out why having a lot of trines can make a person prone to arrogance, why people with a lot of squares can turn out so successful and why those with lots of oppositions are argumentative.  In this class you'll learn to see each of your hard aspects as a gift wrapped in an unattractive package and to love the difficult quincunx.
Webinar class meets on Monday, June 26, 2023
5 PM Pacific Time / 6 PM Mountain Time / 7 PM Central Time / 8 PM Eastern Time
7. ASPECT CONFIGURATIONS
Grand Trines, Grand Crosses and T-Squares, oh my!  After learning about the individual aspects in the previous class, we are now ready to see how they fit together into larger aspect configurations.  If your Grand Cross makes you. . . cross or if you're mystified by your Mystic Rectangle, all will be explained.  In this class we'll also tackle the anxiety-provoking Yod (mwa-ha-ha-haaaaa!).
Webinar class meets on Monday, July 3, 2023
5 PM Pacific Time / 6 PM Mountain Time / 7 PM Central Time / 8 PM Eastern Time
Why do some people seem to have such trouble coping with their lives? Why are some people such drama-magnets and they never seem to learn?  This class unveils a fascinating dynamic I call a "Hot Zone," along with how to spot one and ways to handle it and smooth out the highs and lows.  Not everyone has one, but you'll be able to help those who do.
Webinar class meets on Monday, July 10, 2023
5 PM Pacific Time / 6 PM Mountain Time / 7 PM Central Time / 8 PM Eastern Time
9. SYNASTRY, CHART COMPARISON AND COMPOSITE CHARTS
Relationships are hard enough—but most people don't even understand the astrology behind their attractions and behaviors.  They need your help!  This class teaches you why people relate the way they do and about that elusive thing called "chemistry."
Webinar class meets on Monday, July 17, 2023
5 PM Pacific Time / 6 PM Mountain Time / 7 PM Central Time / 8 PM Eastern Time
10. HOW TO USE "THE FORCE" WISELY
Astrology is a very powerful tool that enables you to get right inside someone's world very quickly.  You'll learn why it's important to respect your readee and how to use his chart to help him become the finest person possible.  In this class you'll learn the most important gift you can give another human being and how to give it effectively (hint: it's not money and everyone's got it!).
Webinar class meets on Monday, July 24, 2023
5 PM Pacific Time / 6 PM Mountain Time / 7 PM Central Time / 8 PM Eastern Time
"I was walking up the steps to my house tonight and found myself, yet again, noticing how good I felt coming from Jamie's astrology class. It seems every time I come away with renewed optimism and a sense of well-being toward humanity and a sense of belonging that wasn't there before. I find her classes to be healing. Really, they're kind of like group therapy. But I attribute that healing to the space she holds and to her ability to transmit acceptance through the wisdom she shares in every class.  It's like taking an astrology class from a multi-faceted, cleverly disguised angel." – Carolyn S., restaurant server
Payment Options
Cost: $525 for the 10 session series.
Full-pay option: $499, payable by credit card or paypal when you register.
Payment plan option: $525, payable in 3 easy monthly payments of $175 each, by credit card.
For serious astrology students:
If you love astrology and want to dive deep, I've got discounts available for you. You can take classes in packages or the whole curriculum and you can use payment plans or get an even deeper discount when you pay in full in advance. You'll see all these options when you get to the page where you can purchase Chart Analysis Techniques.
I'll be accepting only 10 students into this class. If you want to join, you might want to register right away to secure your spot (first come, first served). As I've said before, these classes are small on purpose, because I want to guide you personally from where you are to where you want to go. In class you'll have access to lots of personal attention and get all of your questions answered. I'm a professional astrologer in private practice for almost 25 years and you'll be able to tap my stores of knowledge and experience and watch these techniques work in several charts for useful contrast. If you've always wanted to understand the workings of human personality through the divine mechanism of a birth chart, this is a "stellar" opportunity.
I look forward to meeting you and showing you a world of wonders, right inside your own self.
Warmly,